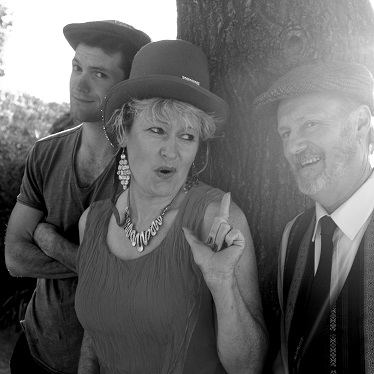 An Evening with the Ferris Family and Friends
Coming from a musical background, Robin's mother – a wonderful pianist and father from County Antrim, Ireland a singer of mainly Irish songs, they performed in bands in Christchurch so it was little surprise that it would rub off on their youngest son, Robin. Having learnt guitar at age 10 he was fronting his first band – a trio called 'Kalaba' at age 15, performing at pubs, clubs and increasingly more at private gigs, Robin then led larger groups such as 'The Sage Dance Band' in the 70s and 80s and duos such as 'Y-Knot' and 'The Bollards', adding a seventeen year stint as a solo entertainer.

Occasionally reforming bigger bands with fellow musicians since then he at present works in the girl/guy band 'Something Else' and 'The Blarney Band' performing at gigs in Christchurch and throughout the South Island.

Jen Ferris joined with Robin to form 'Something Else' over a decade ago. Together they continue to develop and present a surprisingly versatile and quality mix of over 700 covers at weddings, birthdays, theme nights and other shows. Combining experience and two lead vocals, Martin guitar and light percussion they will entertain you with their stylish song selection and superb harmony arrangements.

As a third generation Ferris, Robin's son Ryan is a fully professional entertainer who has honed his craft, his voice and guitar playing in Europe based in Berlin over the last 5 years during their summer.

He has returned to Christchurch to perform at often 2 or 3 gigs per week. He also writes, records and produces his own material and often pulls in fellow musicians to perform with him at gigs in Christchurch. Some of them, like him, are graduates from the Christchurch School of Music. A variety of other muso friends have been invited to add their spice and sound to some of the numbers at this special Ferris Family Evening.

$10 Members $15 Non-members $5 Students with ID Doors open 7.00pm Performance starts at 7.30pm, you will get a seat if you arrive close to 7 pm.
VENUE: Irish Society Hall, 29 Domain Terrace, Spreydon The hall is situated up the long driveway, directly next to Domain Park, and there is plenty of well-lit off-street parking.

DOOR SALES CASH ONLY: Tea, coffee, biscuits and cake available during the break, also bar facilities for cold refreshments throughout the night, Eftpos available for purchases only, no cash-out facility. Please remember to bring your current Folk Club membership card as this is required for new club licensing.