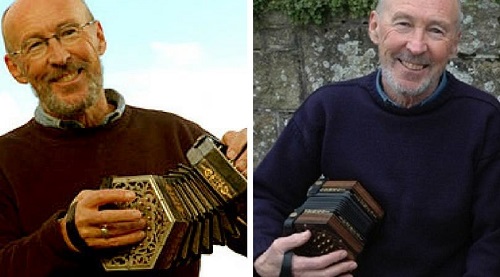 Alistair Brown - a well travelled Scottish singer & concertina
Please note the change of date and time from previously advertised

Alistair Brown has been singing the old songs, and new songs written by people who like the old songs, since he was fifteen years old. He began his career helping out in the folk clubs of his native Scotland during the folk revival of the 60s, selling tickets, & opening bottles & occasionally concerts, for many of the great names in folk music.

1972 to 2002, he lived in Canada, where he was active in many aspects of folk song & dance, as a recording artist, radio broadcaster, reviewer, dance teacher, university lecturer, & program director at folk music & dance camps. He continues to make regular appearances in North American folk clubs & festivals, performing solo, or with the Friends of Fiddler's Green, a band which celebrated its fortieth anniversary in 2011, without maturing in the slightest.

ďThe atmosphere was electric as the audience hung on his every word. This man is a born raconteur & in the intimacy of our house concert the effect of his song/story performance was doubly felt. ... Not only does Alistair have that unique ability to capture an audience but his strong clear voice combines so well with his expertise on the concertina as he sings his story ... There's something special about a house concert!" M. NSW

Links: Alistair Brown's Website
The Mill-Race Festival features Anglo-Concertina player Alistair Brown
Twelve and a Tanner a Bottle

$15 Members $20 Non-members $5 Students with ID

Doors open 3.00pm.
VENUE: Irish Society Hall, 29 Domain Terrace, Spreydon
The hall is situated up the long driveway, directly next to Domain Park, and there is plenty of well-lit off-street parking.

DOOR SALES CASH ONLY: Tea, coffee, biscuits and cake available during the break, also bar facilities for cold refreshments throughout the night, Eftpos available for purchases only, no cash-out facility.
Please remember to bring your current Folk Club membership card as this is required for new club licensing.