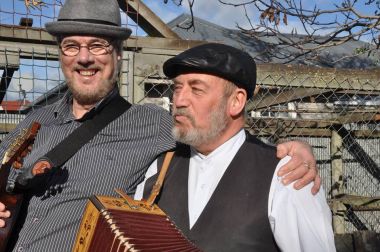 Life Member - Dave Hart
At a Special Meeting of the Christchurch Folk Music Club in March 2015, the membership unanimously agreed to bestow upon Dave Hart, an Honorary Life Membership. This honour acknowledges the contribution Dave has made to the club over the past twenty two years.

Dave has been involved in folk music in many ways since 1965. He's a Folk Club stalwart and plays a multitude of instruments, including the Melodeon, Tea chest (and tea bag) bass, Appalachian Autoharp. Mouth harp, Keys and Accordion. Dave's instrumental talent is supported by illustrious oratory skills: he can tell a great tale, whether it be his own writings, or adding character to the musing of others.


For many of you, Dave will have been the club's compere for more years than we would care to admit, making us feel at home on Sunday nights, introducing the artists to the audience at the beginning, and closing and thanking at the end. Dave knows that these are the first and last impressions of the folk club evenings for most of the audience, so the compering role was taken very seriously. However his humour always shines through. Many of the performers will attest to Dave's hospitality. Dave has been hosting guests for many years. This included dinner, airport collections and drop offs, as well as a whistle stop tourist tour through Christchurch.

So, thanks Dave from the club. We acknowledge your commitment and generosity. You have welcomed and supported both artists; audience, and new committee members. Your contribution to the smooth running of the club has been significant; matched only by your musical contribution, which has been vast and truly entertaining, touching your listeners' hearts.

Dave's past musical groups:
"Pride of Holland Street" Morris dancers...Wellington
"Hey Diddle Dis" English Barn dance band...Wellington
"Britannic Bedlam Morris Gentlemen"...Founding member...Wellington
"Bantam Of The Opera'...English country dance band...Christchurch
"Christchurch Folk Music Club"...committee member
"Counterpoint"...a capella group...with Libby Stuart, Rieneke, Mike Long
"Fat Boy & Slim"...Edwardian Music Hall and Vaudeville duo with John Jones
"Rusty Nails"...Jazz and variety group with Trish Waters, Tony Worrall, Judi Smitheram and others.
"No Sax Or Violins"...3 part a capella group with Dave Lloyd and Geoff Anders
"Heartaches & Harmonies"...a capella duo with daughter Polly Hart
"Hale & Harty"...duo with Tony Hale