Christchurch Folk Music Club
Bards, Ballads and Bulldust Concert Tour
9 May 2021 $15 Members $20 Non-members $5 Students with ID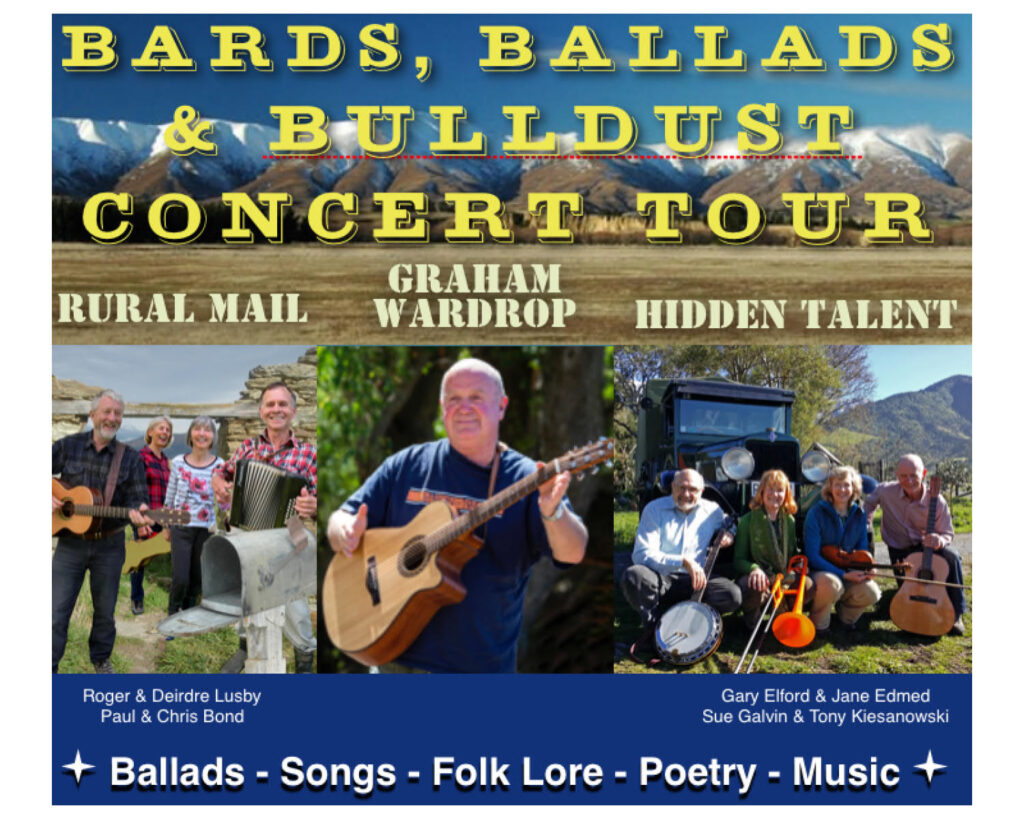 The Bards, Ballads and Bulldust Festival, a mix of New Zealand high country-folk music, poetry, stories and folklore, was started in Naseby in 2006 by the late Folk  Legend Phil Garland, and Warrick Brock, with help from Ancient Briton Hotel owner,  Roch Sullivan. 
This unique festival featuring spoken word, highlights the importance of stories and songs of New Zealand history. 
This year the festival organiser, Roger Lusby, originally of Roxburgh, Central Otago,  has arranged a series of concerts before and after the festival in Naseby, to bring Bards  and Ballads to as many people as possible.  
Nine talented performers will bring a bold set of songs, stories and poems to the stage  to entertain and refresh many memories of 'The Good Old Days' 
Featured performers are: 

 Graham Wardrop: World famous singer,   songwriter, acclaimed fingerstyle guitarist, luthier, straight out of 'Two  Paddocks', Sam Neill's vineyard in Central Otago, and a pre virus tour of five weeks of concerts and festivals in Canada. 
Graham has just added two new CDs to his self-penned collection of songs, and is really looking forward to playing some of them for you. 
Rural Mail: Paul & Chrissie Bond, Roger & Deirdre Lusby
A quartet started by Roger to perform New Zealand ballads, songs and poems, both traditional and self-penned, the group has a unique sound, featuring harmonies and variety and has been receiving very positive feedback and always delivers in time! 

Paul Bond: Spent his childhood years on farms in Thames and Pukekohe and became interested in poetry and folk music from the 1950s onwards. Influenced by 'The Kingston Trio' Paul has written and recorded many well known pithy NZ songs. 
Paul is blessed with a beautiful tenor voice, and Chrissie and Deirdre add clear harmonies to lift the group's performance levels to a new height.

Roger Lusby: A published songwriter and award-winning poetic balladeer, has been performing for over 50 years.  
His songwriting programme for schools 'Sing Out Kiwi' has produced many songs children sing in schools today. They feature the NZ way of life, with an environmental theme. 
Roger has recently performed his work in Alaska and Mexico and has featured in the last 17 years of the Tui Farm Folk Festival. 
Hidden Talent: Jane Edmed & Gary Elford, Sue Galvin & Tony Kiesanowski, is the combination of two Christchurch couples. 
This band formed because being friends they would meet for a meal before Jane and  Sue's monthly book club meeting. The two men would play music when the women went off-book clubbing. However, the women wanted to join in on the music too, so more frequent dinners were instigated, and the band's identity was revealed – Hidden  Talent.  
All members of this band had performed on stage before so, had a lot of folk experience to draw on. They present songs, wordless tunes, and tuneless words,  especially enjoying the music and poems of New Zealand and Australia, old and new,  including a few composed by their good selves. 

Sue Galvin: An extraordinary musician with a beautiful voice and performance ability, always adds sparkle to every show. One half of the renowned folk duo, 'Peninsular Envy', Sue will delight you with her presence on stage.  
—

Gary Elford: Wears many hats and performs with style, humour and talent. Born on the mid-north coast of New South Wales, he now lives in Christchurch and has published three of his own poetry collections. A natural performer, Gary can sing, play, call a dance and spin a poem that will have you on your feet calling for more. His love of the unexpected gives his poems the added twist that everyone loves. Joined by his wife, Jane Edmed with her flute or trombone, they never fail to entertain.
—

Tony Kiesanowski: Has been performing his own songs at festivals and gatherings for long enough to have received the greatest compliment of them being picked up and covered by other professional performers. His songs tell of the romance of backcountry roads of NZ, leading home to the love of his life. A  songwriter of great ability, Tony is a valued member of the group and being a lawyer in a previous life, knows how to ensure the group is never compromised.  
—
The Bards Ballads and Bulldust Concert Tour Group will be performing at the Christchurch Folk and Music Club on 9th May. Their performance is guaranteed to entertain and confirm the importance of singing our own songs about New Zealand,  one of the most beautiful countries in the world.
Doors open 7pm. Performance starts at 7.30pm, you will get a seat if you arrive close to 7pm.
VENUE: Irish Society Hall, 29 Domain Terrace, Spreydon The hall is situated up the long driveway, directly next to Domain Park, and there is plenty of well-lit off-street parking.
DOOR SALES CASH ONLY: Tea, coffee, biscuits and cake available during the break, also bar facilities for cold refreshments throughout the night, Eftpos available for purchases only, no cash-out facility. Please remember to bring your current Folk Club membership card as this is required for new club licensing.
16 May 2021
Three highly regarded local musicians have come together to form a trio that presents to you an exceptionally exciting programme of music.
read more