Open Mic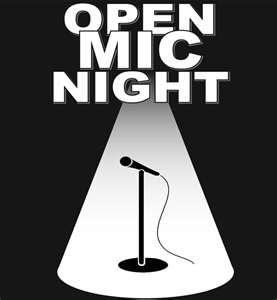 28th May 2017
Doors open 6.00pm
$5 Members - Open Mic
$5 Non-members - Open Mic
$5 Students with ID


AGM - 6.30pm, for the Folk Music Club and the Cantebury Folk Festival, followed by Open Mic night
Our mission at Christchurch Folk Club is to provide an outlet for local (acoustic) performers to be heard, singers, songwriters and poets all welcome. We encourage all levels of performers, whether novice or expert, to hone their performance skills and talents in front of an audience. We provide the equipment to support you to look and sound your best: stage, theatre lighting, microphones, leads, music and mic stands.

The qualified sound man who will work with you, if you have specific requests please talk to him before the event starts. We are a listening audience that focuses respectfully on the performers and lots of encouragement. Perform material that you are comfortable with, we don't expect perfection but it's always best to be as prepared as you can be.

Choose songs you are comfortable with and if you are a regular performer at our open mics we challenge you to bring new material to share. This offers you the chance to further develop your repertoire whilst offering the audience variety. Sign-up time is from 7pm, please come on time to assure a time-slot, we do want to hear you. You will get to perform two songs, with a time-limit of up to 10 minutes; this includes your setting up and introductions.
Some tips for performers
Be tuned up and ready to take the stage when it's your turn.
Stay close to the mic. It is your friend.
When it's not your turn, do that Golden Rule thing.
After you play, the polite thing to do is stick around and listen to others.
Be positive and encouraging in your comments. It takes guts to stand up and play your heart out, and everyone deserves bouquets for doing that.
Everyone makes mistakes, blows chords, and forgets lyrics sometimes. Don't worry and don't apologise.
Keep coming back. You'll get better and better.
...and ... bring your friends to cheer you on.
So please... do come along and catch up with and support club members - enjoy a great night with a vibrant, enthusiastic audience who are also there to perform & share their music with you - after all, isnt that what folk music is all about?

Entry is $5.00, and please support the raffle. Some more tips for performers
Do play contrasting songs (One slow, one fast, one in major, one in minor, one strummed, one finger picking etc.)
Similarly, don't play two songs in the same key back-to-back. Even if an audience doesn't know, their ears will start to get bored.
Don't apologise before you play a song. People want you to be excited about your song, support yourself by being positive.
Do make friends with the Folk Club committee and the other audience members; people like to work with their friends, so be a friend to everyone you meet.
Do have fun! Savour the experience. You transmit your feelings from the stage, if you have fun so will the audience.
Do be sincere and specific if giving feedback like "I really liked the riff on that tune" or "Your voice really suited that song" so they know you were paying attention.
Do practice your introduction, short, specific and a hook to lead the audience into the song.
Do prepare. You will know how long you need to ensure you feel comfortable singing a new song, be kind to yourself and give yourself the time you need to prepare and be confident!