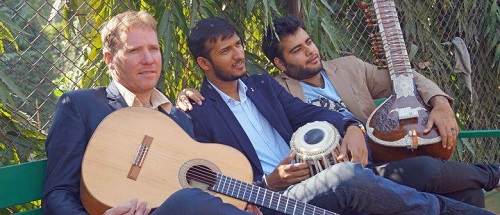 Pangaea (New Delhi) Mesmerising and Exciting Fusion Tour
Pangaea is a unique musical collaboration between three well established international musicians who are currently residing in Delhi, India. The aim of Pangaea is to provide a fusion of the best of Western and Eastern styles. It does this through its own original song compositions as well as through re-imaginings of popular and classical tunes.
The group combines the singing, compositions and classical guitar skills of New Zealander Mike Hogan with two of Delhi's finest and most sought after young musicians: Tabla player Saptak Sharma and Flutes and Sitar player Mayank Raina.
The experience of hearing Pangaea is mesmerising and exciting and the group aims to enliven the mind and to make the body move.
Listen to Pangaea on Youtube
Listen to Crosses on Soundcloud
Listen to Kirwani on Soundcloud

Saptak Sharma
Saptak is one of the leading young tabla players in India. He began learning tabla at the age of 4 and for the last 10 years has been under the tutelage of the legendary Ustad Akram Khan from the Ajrada Gharana school in New Delhi.
Saptak has been lucky enough to perform with all three generations of Ajrada Gharana including Ustad Hashmat Ali Khan, Ustad Akram Khan and Zargham Akram Khan and has toured extensively with many different acts, performing across the country and globally.
Eminent artists like Pandit Anindo Chatterjee, Pandit Kumar Bose, Ustad Shahid Parvez Khan have provided him with their praise, blessings and guidance, and he received the Uttar Pradesh Sangeet Natak Academy Award in 2014 from Chief minister Mr Akhilesh Yadav ji.
Saptak has performed at various international conferences in country and abroad such as the conference for Buddhist relationship between Sri Lanka and China, Youth Festival in Delhi, Singapore cultural conference and the Ustad Bismillah Khan Festival. He has toured extensively across India and abroad conducting music workshops and performing across various musical genres with popular bands and as a classical musician.

Mike Hogan
Mike is a New Zealand musician \ composer currently residing in New Delhi India.
Mike has mastered a wide range of styles, from Classical and Latin through to Jazz, Rock, and Folk music. He has an Honors Degree (first class) in composition as well as a Bachelor of Music in performance Classical guitar at the NZ School of Music.
Mike's classical compositions for guitar have been recorded and performed internationally by artists such as: Christopher Hilland Matthew Marshall
As a singer songwriter, Mike performs as a solo artist playing classical guitar repertoire as well as his own original compositions.
Mike has been a member of many bands such as:
YoungLife Vanauatu
Jhan Lindsay and the Chatelains
Sven Olsens Brutal Canadian Love Saga

Mike is also a prize-winning music and video producer, having won the 2011 Fair Play Youth Voices competition.

MAYANK RAINA
Mayank began his musical education at the age of 4 and was lauded by music critics as a child prodigy. He was initially taught by his Grand-father pandit Omkar Nath Raina, the most reputed and honored sitarist of the Jammu & Kashmir state, along with his father Shri Sunil Raina who is a senior instructor in the "Institute of Music and Fine arts Jammu.


At the age of 10 Mayank won first prize in an instrumental classical music solo competition organized by the J&K Academy of Art Culture and Languages, Jammu, and since then has regularly been winning and receiving numerous prestigious awards such as:
• First prize and First position in junior group instrumental music competition held by the J&K Academy of Art Culture and Languages, Jammu, 2005.
• First Prize and First Position in the instrumental (senior group) children on the spot music competition held by the J&K Academy of Art Culture and Languages, Jammu 2006.
• First position in all India competition of classical instrumental sitar (junior category) held at Jalandhar 2006 by Shri Baba Hari Ballabh Sangeet Pratiyogita.
• First position in Bhajan singing competition held by Kendriya Vidyalaya Jammu in 2004,2007 and 2008.
Mayank has performed for many distinguished V.I.P audiences such as Prime Minister Narendra Modi, P.M. Mr. Manmohan Singh & congress president Mrs. Sonia Gandhi, H.E. president of India, Sh. Pranab Mukherjee, H.E. vice president of India & then education minister, Mr Kapil Sibbal.


He has given many recitals abroad in countries like Belgium, Korea, Sri Lanka and Germany.
In Mayank's own words, he is: "Committed to yet harder and harder "riaz" and full devotion to explore the vast and unlimited boundaries of the domain of music in my insatiable quest for learning".

Members $15; Non-members $20 and Students $5 with ID

Doors open 7.00pm Performance starts at 7.30pm, you will get a seat if you arrive close to 7 pm. VENUE: Irish Society Hall, 29 Domain Terrace, Spreydon The hall is situated up the long driveway, directly next to Domain Park, and there is plenty of well-lit off-street parking.

DOOR SALES CASH ONLY: Tea, coffee, biscuits and cake available during the break, also bar facilities for cold refreshments throughout the night, Eftpos available for purchases only, no cash-out facility. Please remember to bring your current Folk Club membership card as this is required for new club licensing.