Christchurch Folk Music Club
2022 Final Concert, celebrating the camaraderie of shared music & BBQ
For our final night of a year studded with so many memorable concerts, we plan to fill the stage from beginning to end with the Club's own Whanau. We are inviting all you performing musicians and poets to contribute to the theme "Beginning, Middle & End" by bringing along songs or poems with reference to the expanse of time (however tenuous!) in their titles or lyrics – or both. Some examples to get your creative juices flowing:
"Beginning to See the Light"; "The First Time Ever I Saw Your Face", "Stuck in the Middle with You", "Dance Me to the End of Love", "End of the Line", "The Carnival is Over", "Blue Smoke", "Early One Morning", "Dominion Road", "The Night They Drove All Dixie Down"……..
We look forward with great anticipation to your ideas, proposed songs and offers to perform so please hurry up and email Judi ASAP!
To all other attendees, if you are a member then this special evening is also for you; the Club's thank you for your much appreciated support throughout the year. Your BBQ meal and concert will be free of charge. You are most welcome to invite friends and family to attend both BBQ and concert for the discounted price of $15. We'd love you to encourage non-members to come along and hear our amazing music and enjoy the warm and friendly vibe the Club exudes.
For catering purposes, we need confirmation of numbers by Friday 9th December. Please follow this link to register your attendance:  https://forms.gle/oAzftsHxNNYpbaSx7
Christchurch Folk Club Christmas BBQ
Doors open 5.30 pm BBQ @ 6pm
Beginning Middle & End concert will be in three sets:
6:15-7:15pm; 7:30-8:20pm and 8:40-9:30pm.
$15 non-members (BBQ and concert – if you arrive for the BBQ this will be included in the entry fee).
We are expecting a high level of support for this event therefore have opted for a bigger venue for the night:
Caledonian Hall, 5 Michelle Road, Wigram
Members, please book your tickets by 9th December.
If you are available to support this night by volunteering to help with a role on the evening, please contact Judi: 027 454 3885 or email
secretary@folkmusic.org.nz
Doors open 7pm. Performance starts at 7.30pm, you will get a seat if you arrive close to 7pm.
VENUE: Irish Society Hall, 29 Domain Terrace, Spreydon The hall is situated up the long driveway, directly next to Domain Park, and there is plenty of well-lit off-street parking..
DOOR SALES CASH ONLY: Tea, coffee, biscuits and cake available during the break, Eftpos available for purchases only, no cash-out facility. Folk Club and Irish Society members please remember to bring your membership card for licencing purposes. Non-members sign in at bar.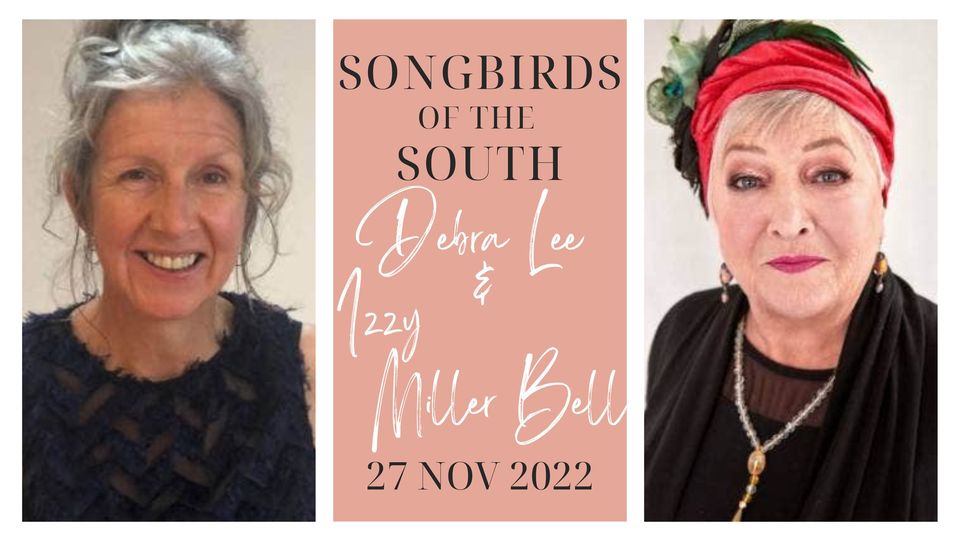 27 November 2022
Following on from a successful 5 date tour of the
South Ma Bell brings her Songbirds of the South show to the Christchurch
Folk Club, sharing the stage with Nelson based singer Debra Lee.
read more