Christchurch Folk Music Club
Ceilidh a fun night of dancing brought to you by Theo & G Barndance Duo
"Theo and G" are the next barndance band! Theo on accordion with Gary on guitar and calling. They are known for their nights filled with fun, great music and most of all, exceptional dancing. Bring your dancing shoes and smiles, all that is needed for an evening of merriment and "the best fun to be had with your clothes on".
A cèilidh is a traditional Scottish or Irish social gathering. In its most basic form, it simply means a social visit. In contemporary usage, it usually involves playing Gaelic folk music and dancing, either at a house party or a larger concert at a social hall or other community gathering place.
Cèilidh music may be provided by an assortment of instruments including fiddle, flute, tin whistle, accordion, bodhrán, hammered dulcimer and in more recent times also drums, guitar, mandolin, bouzouki and electric bass guitar.
The music is cheerful and lively, consisting in Ireland mainly of jigs, reels, hornpipes, polkas, slip-jigs and waltzes, with Scotland adding strathspeys, and England adding regional forms such as the northeastern rant.
The basic steps can be learned easily; a short instructional session is often provided for new dancers before the start of the dance itself.
Dancing at Cèilidhs is usually in the form of Cèilidh dances, set dances or couple dances. A "Set" consists of four to eight couples, with each pair of couples facing another in a square or rectangular formation. Each couple exchanges position with the facing couple, and also facing couples exchange partners, while all the time keeping in step with the beat of the music.
However, about half of the dances in the modern Scots Cèilidh are couples' dances performed in a ring. These can be performed by fixed couples or in the more sociable "progressive" manner, with the lady moving to the next gentleman in the ring at or near the end of each repetition of the steps.
Some of the dances are named after famous regiments, historical battles and events, others after items of daily rural life. The "Gay Gordons", "Siege of Ennis", "The Walls of Limerick" and "The Stack of Barley" are popular.
Entry: Adults $10 (members & non-members), Children $5
Doors open 7pm. Performance starts at 7.30pm, you will get a seat if you arrive close to 7pm.
VENUE: Irish Society Hall, 29 Domain Terrace, Spreydon The hall is situated up the long driveway, directly next to Domain Park, and there is plenty of well-lit off-street parking..
DOOR SALES CASH ONLY: Tea, coffee, biscuits and cake available during the break, Eftpos available for purchases only, no cash-out facility. Folk Club and Irish Society members please remember to bring your membership card for licencing purposes. Non-members sign in at bar.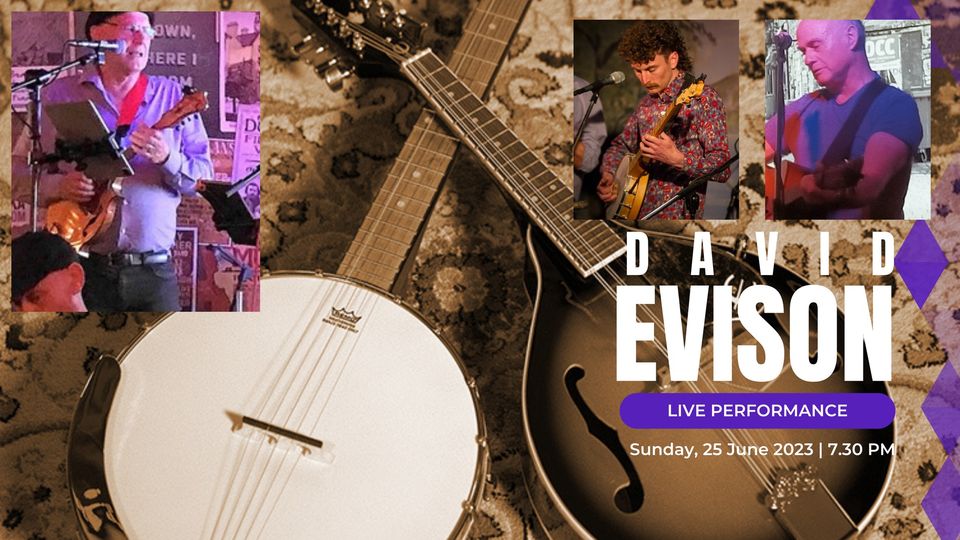 25 June 2023
David Evison is a regular performer at Folk Club events, and recently became a member of the Jamesons, a long-standing Christchurch band which plays every Tuesday night at the Bog Irish bar. He also regularly joins sessions at the Pegasus Bar and the Little Fiddle.
read more