Christchurch Folk Music Club
George Jackson & Brad Kolodner
Wednesday 28th of February 2024

Members: $20
Non Members:$25
Students: $5
Please follow this link to register your attendance:
https://www.trybooking.com/nz/QDP
At the heart of all traditional music lies two important coordinates, the time and place of origin; objective definitions in the ever evolving aesthetics of folk music.
These coordinates are the concepts explored with infinite new possibilities by New Zealand-born, Nashville-based fiddler George Jackson and Baltimore based American banjoist Brad Kolodner. The two musicians met years ago in a late-night jam session at the hallowed Appalachian String Band Music Festival in West Virginia and have since formed a musical bond that runs deep, across continents and through a number of recorded projects.
From the moment the fiddle bow hits the strings and the fingers grasp the fretboard, George and Brad are locked in, weaving their way through ancient melodies made new again. From trance-inducing moody original tunes to classic barnburners, their show has something for serious or casual folk music fans alike. They play with a mischievous curiosity that keeps listeners on the edge of their seats wondering where they'll go next.
Traveling has been a way of life for George, who was born to musician parents in Christchurch, New Zealand. He spent the better part of his childhood living and touring around in a house bus with his family band "Fiddlesticks". Moving to Australia as a teen he performed across the country in bluegrass bands and won the Australian National Bluegrass Fiddle Championship three times.
An avid student of American fiddle styles, Jackson eventually made his way to Nashville, TN where he now lives and works. He performs as a band leader and fiddler for hire with artists such as The Jacob Jolliff Band, Jake Blount and Tall Poppy String Band and has released three solo albums of fiddle tunes to acclaim in the USA, where some of his compositions are now close to standard jam repertoire across the continent.
Growing up in a musical family, Brad was exposed to folk music from birth. His father Ken Kolodner is a renowned hammered dulcimer player and fiddler who toured for many years in the folk trio Helicon.
Doors open 7pm. Performance starts at 7.30pm, you will get a seat if you arrive close to 7pm.
VENUE: Irish Society Hall, 29 Domain Terrace, Spreydon The hall is situated up the long driveway, directly next to Domain Park, and there is plenty of well-lit off-street parking..
DOOR SALES CASH ONLY: Tea, coffee, biscuits and cake available during the break, Eftpos available for purchases only, no cash-out facility. Folk Club and Irish Society members please remember to bring your membership card for licencing purposes. Non-members sign in at bar.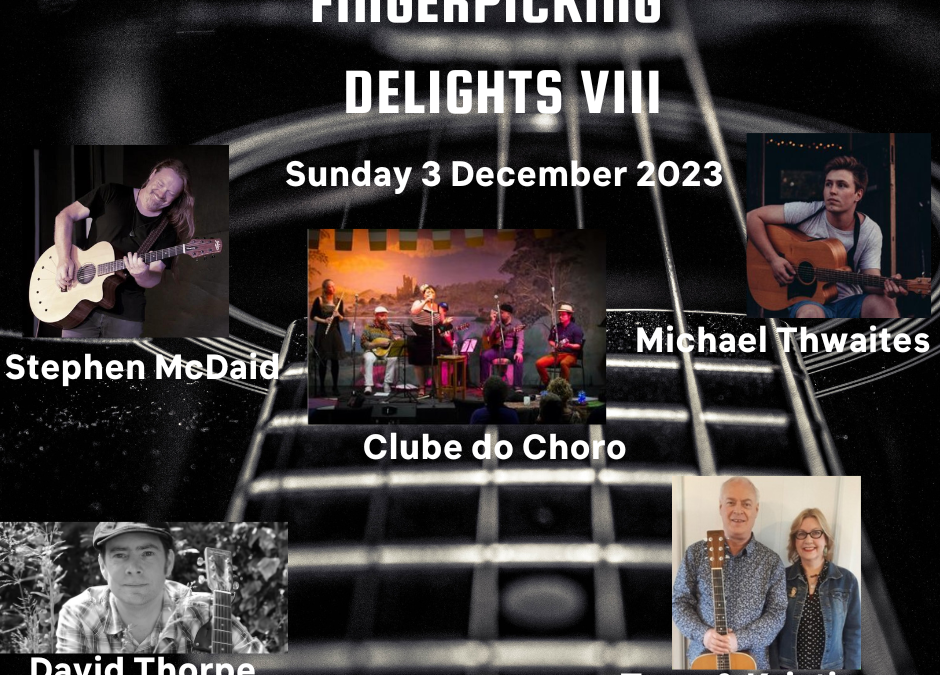 3 December 2023
Tony Hale is pleased to invite you to his 8th annual guitar concert, with its emphasis on the plugged-in acoustic guitar and the fingerpicked style of playing. New artists mix with returnees back by demand.
read more