Christchurch Folk Music Club
The Kilmarnock Edition began performing as a group over thirty years ago at Kaiapoi's Balmoral Restaurant, where they featured as regular guest artists. Audiences enjoyed their musical, vocal and instrumental style and the group's popularity grew rapidly.
Southern Regional Arts Council sponsored concerts ensured that The Kilmarnock Edition was heard from Blenheim to Gore and always to enthusiastic audiences. The group made its television debut in 1986 when it was a semi-finalist in the nationally screened "Telequest '86". A further highlight was to feature as guest artists at the Wellington International Festival of The Arts in 1992. The Kilmarnock Edition played to its largest live audience when the group sang "Flower of Scotland", the Scottish national song, at Carisbrook prior to the All Blacks versus Scotland Rugby International in 1995.
The group continued to entertain at Celtic gatherings and featured at several Scottish Extravaganza Concerts and at Irish Showtime 2000. Many national and international conferences engaged the group to entertain their delegates and local organisations requested annual performances. The Kilmarnock Edition has frequently given their time and talent to fund-raising events for church and service groups and is acclaimed for the quality of their music. In recent years the group has performed at the Hororata Highland Games and at the Christchurch Folk Club. Numerous recent performances at Retirement Villages have been enjoyed and well attended
The Kilmarnock Edition's fourth commercial recording was "From Distant Shores" after the third, "From Far Horizons", was released on CD and cassette by Ode Records receiving a favourable review by the international magazine "Scottish Field" and a Five Star review from The Christchurch Press.
Sadly lead singer John Doig died in 2013, soloist/guitarist Richard Butler passed away in 2016 and CD producer/guitarist Brian Ringrose in 2017. The group has rebuilt with three new members joining the originals, Murray Compton and Dayle Hadlee. 
The group features mainly Scottish and Irish songs, both serious and amusing, with audience participation welcomed. Their harmonies and instrumentals are a feature of their performances. The band members perform in their kilts.
The Kilmarnock Edition is: 
Julian Anderson
Julian joined the Kilmarnock Edition in 2014, and comes from a classical singing background of 15 years with first Canterbury and then Southern Opera Choruses. He is a graduate of NASDA (National Academy of Singing and Dramatic Arts). The best preparation for singing with The Kilmarnock Edition however, was probably a "folk singing" Dad and two Scottish Grandmothers! Introducing "The Gaelic" into the KE repertoire has been a delight and he is looking forward to many more years and concerts with them.
Murray Compton
Murray's musical background began with classical piano training, encompassed piano accordion and brass band performance and choral singing with the Christchurch Leidertafel Choir. His musical talents are demonstrated in keyboards and piano and feature in the group's vocal arrangements as a bass baritone."
Dayle Hadlee
Dayle reveals a talent for guitar and mandolin which would surprise many of his cricketing contemporaries. His musical involvement began with the Tarrega Four, a Christchurch folk group which won a major talent quest in 1968. The group featured Christopher Doig as tenor soloist. Dayle's singing is featured in the group's lighter humorous songs, and he adds a tenor harmony which is complementary to his instrumental skills
Ross Blanks 
Ross began performing in folk and pub venues at University and comes from a folk and country music background. In 1985 Ross and his partner won the Gospel duo section of the Canterbury Country Music Awards.  He has recently dusted off his guitar and banjo and is thoroughly enjoying learning and making the music of his heritage with the Kilmarnock Edition.
Erin Callanan 
Erin comes from a strong musical background with her Irish & Scottish ancestry coursing through her veins!  She sings for weddings and funerals and was the lead singer in Sound of Music, South Pacific and many others with the Queenstown Musical Society. She has performed in NZ Opera Chorus for the past 20 years and is also a member of the Repertory Theatre, Brickwork Productions, Elmwood Theatre, Showbiz Ch.Ch, Top Dog Theatre plus several Shakespeare in the Park productions at Mona Vale. She feels fully "alive" on the stage and loves nothing better than singing and acting.
CDs
The Kilmarnock Edition's CDs, 'From Far Horizons' and 'On Distant Shores', have received favourable reviews both locally and internationally and will be on sale after the concert.
Doors open 7pm. Performance starts at 7.30pm, you will get a seat if you arrive close to 7pm.
VENUE: Irish Society Hall, 29 Domain Terrace, Spreydon The hall is situated up the long driveway, directly next to Domain Park, and there is plenty of well-lit off-street parking..
DOOR SALES CASH ONLY: Tea, coffee, biscuits and cake available during the break, Eftpos available for purchases only, no cash-out facility. Folk Club and Irish Society members please remember to bring your membership card for licencing purposes. Non-members sign in at bar.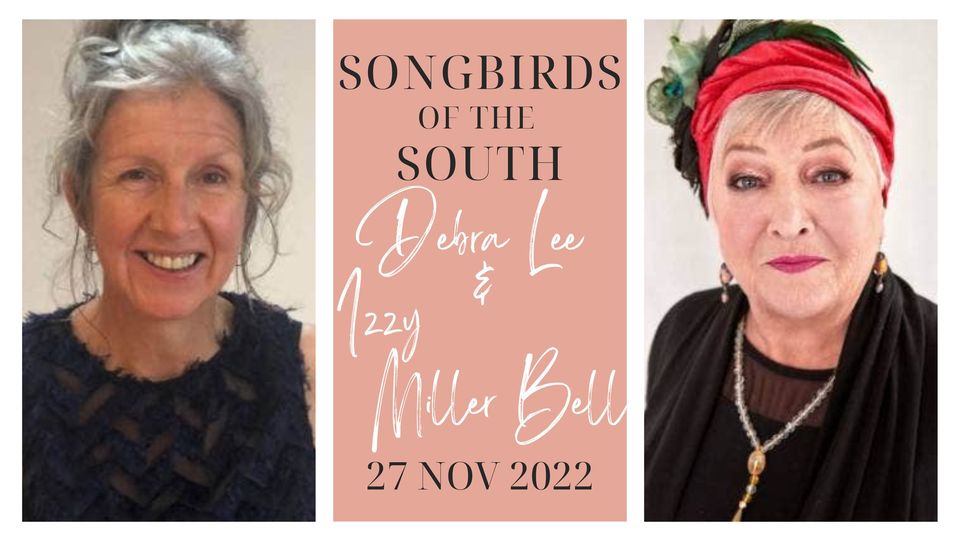 27 November 2022
Following on from a successful 5 date tour of the
South Ma Bell brings her Songbirds of the South show to the Christchurch
Folk Club, sharing the stage with Nelson based singer Debra Lee.
read more