Christchurch Folk Music Club
The Back of Beyond: Craig Denham and Nathan Torvik
Witness the coming together of two kindred musical explorers.
Craig Denham on Accordion, Keys, whistles, foot percussion and vocals and multi-instrumentalist Nathan Torvik on whatever he decides to play on the day!
Their virtuosic musical chemistry is tangible and, with a love of improvisation, they're not afraid to dive into whatever musical rabbit holes might appear on any given gig. With a huge range of styles and influences to draw on from various folk and world musics to blues, reggae, jazz flavours and improvised soundscapes, expect a night of lush musical richness tinged with humour and not taking oneself too seriously.
Doors open 7pm. Performance starts at 7.30pm, you will get a seat if you arrive close to 7pm.
VENUE: Irish Society Hall, 29 Domain Terrace, Spreydon The hall is situated up the long driveway, directly next to Domain Park, and there is plenty of well-lit off-street parking..
DOOR SALES CASH ONLY: Tea, coffee, biscuits and cake available during the break, Eftpos available for purchases only, no cash-out facility. Folk Club and Irish Society members please remember to bring your membership card for licencing purposes. Non-members sign in at bar.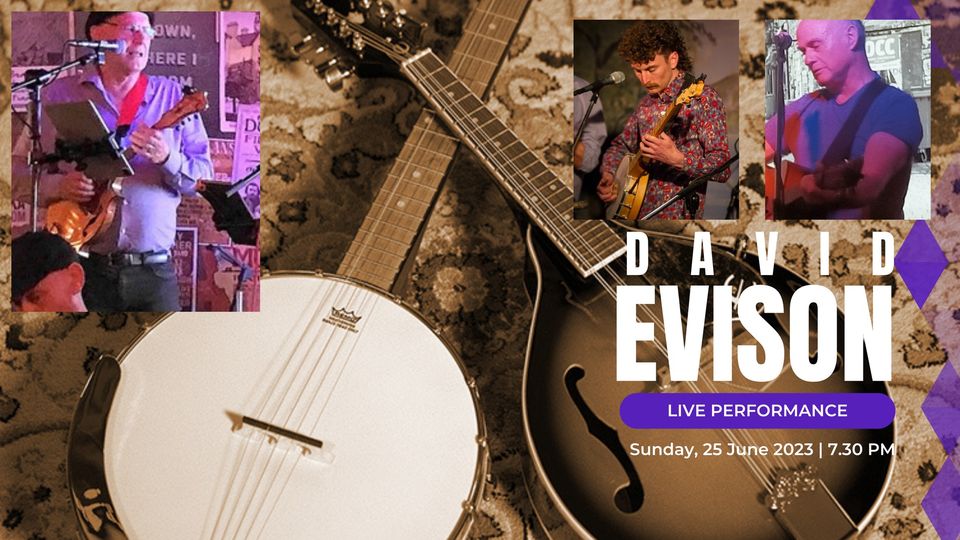 25 June 2023
David Evison is a regular performer at Folk Club events, and recently became a member of the Jamesons, a long-standing Christchurch band which plays every Tuesday night at the Bog Irish bar. He also regularly joins sessions at the Pegasus Bar and the Little Fiddle.
read more