Christchurch Folk Music Club
Hudson Street band offers gorgeous stylings of folk-pop covers. Danielle and Helen's beautiful harmonies are backed by Adam's blues-rock guitar, Brett's rock-funk bass and Reuben's cruising drums. With fresh arrangements, we mix soul, country, jazz and magic. Not your average Christchurch covers band.
Hudson Street offers gorgeous stylings of folk-pop covers. Eclectic song choices are rubbed, rolled and never the same twice as this group of players sink into each song.
Danielle and Helen's beautiful harmonies are backed by Adam's blues-rock guitar, Brett's rock-funk bass and Reuben's cruising drums. Best described as music loving musicians, the group can be seen around Christchurch at A Rolling Stone, 2 Thumb Brewery and under the Lyttleton Market Marquee.
After moving to NZ, Brett was lucky enough to buy a home with a recording studio already built. That luck kept on coming when he advertised for musicians to play and the first response came from Adam and Danielle. The three of them found they had similar interests in music and the core of Hudson Street was formed.
Brett has been playing music since the age of 11 despite nobody in his family being into music. After playing guitar for over 30 years he was asked to play bass at a gig with only two weeks' notice. He spent that time practicing and quickly realised this is what he should have been playing all along. Since then he has played in numerous bands in Australia and NZ in such diverse genre's as rock, punk, folk and even a ukulele group. Brett is the foundation and heart of the band. His humor, love of musical electronics, and outrageous sock collection is key to keeping this band together.
Adam moved from Australia to Christchurch to reignite the band he had with Danielle. Along the way he found his musical tribe in the Hudson Street members. His love of guitar is complemented by his love of great songs and playing music with great people.
Danielle has never been shy to take to the microphone. Her love of music and exploring harmonies started in the young years as the family sang along to her dads guitar playing. Finding that musical sweet spot in the moment is what it's all about. Having sung in a variety of bands from jazz, Motown & pop, her style has steered into folksy blues, finding much joy in the relaxed playfulness of the genre.
Reuben grew up with the radio always on in the background. At the age of 13 he was given a rickety old drum kit and proceeded to teach himself to play. 'There is very seldom a moment where a beat is not running through my head, I don't care what music I play, I just want to play'.
Vocalist Helen grew up with music running through the family's veins. Her father jammed with Louis Armstrong, her grandmother's cousin, Herman Hupfeld, wrote the American classic As Time Goes By, and her great grandfather played in John Philip Sousa's band. Helen followed in this the musical current with her own voice. On USA highways she sang harmonies from the back seat of an Oldsmobile wagon, and her love of music led her into circles of rock, bluegrass, and folk. She leans into communicating with music, a dimension beyond of words, where joy and delight come easy.
Doors open 7pm. Performance starts at 7.30pm, you will get a seat if you arrive close to 7pm.
VENUE: Irish Society Hall, 29 Domain Terrace, Spreydon The hall is situated up the long driveway, directly next to Domain Park, and there is plenty of well-lit off-street parking..
DOOR SALES CASH ONLY: Tea, coffee, biscuits and cake available during the break, Eftpos available for purchases only, no cash-out facility. Folk Club and Irish Society members please remember to bring your membership card for licencing purposes. Non-members sign in at bar.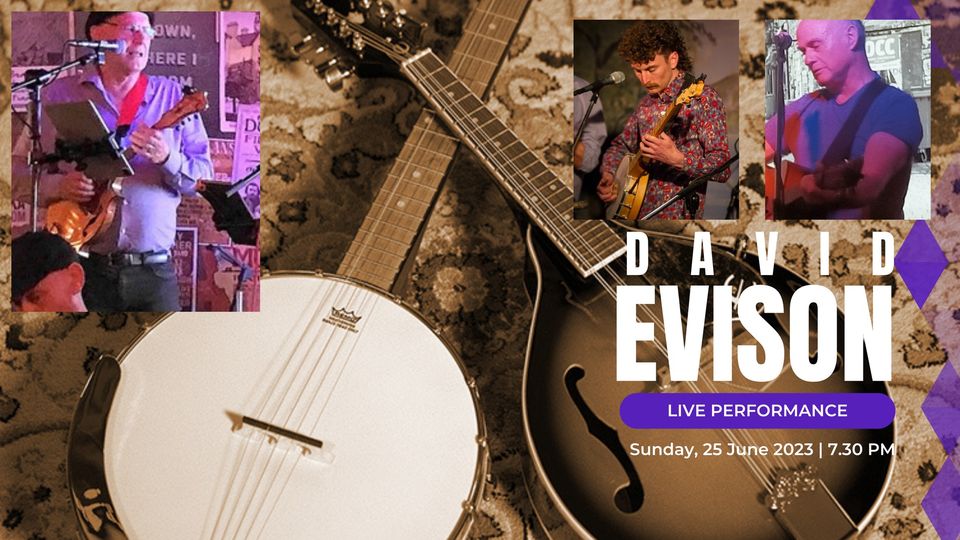 25 June 2023
David Evison is a regular performer at Folk Club events, and recently became a member of the Jamesons, a long-standing Christchurch band which plays every Tuesday night at the Bog Irish bar. He also regularly joins sessions at the Pegasus Bar and the Little Fiddle.
read more