Christchurch Folk Music Club
Islands in the North Atlantic, like Tory Island – the Irish island of legend and myth, the Hebridies in the Northwest of Scotland, the Shetlands, Iceland or the wild archipelago of the Faroe Islands  – these are the places where harpist and photographer Thomas Loefke spends a considerable amount of time every year to compose music.
Dramatic coastal landscapes, the wide open space of the Atlantic ocean and the ever changing sky reflect in the pieces of music written there.  The tunes are accompanied by photographs Thomas took during his travels to the islands
and by a bunch of amazing stories, a combination which makes this solo program a very entertaining show indeed.
From the sounds of the Celtic Middle Ages, and the lively dances of Irish folk music, to his own original compositions each of Loefke's works has its own texture, atmosphere and story to tell.
Thomas learnt his trade in Dublin from Ireland's leading harp players – Máire Ní Cháthasaigh, Helen Davies, Jeanette Harbison and Áine Ní Dhúill. Since 1984 he has been playing professionally and has won several international prizes, including first prize at the O'Carolan Harp Festival in Keadue. He regularily tours with his band Norland Wind featuring Clannad's Noel Duggan, with Faroese violinist Angelika Hansen as duo Norðan, with Riverdance fiddle player Máire Breatnach, with Colorado based cello/guitar duo Acoustic Eidolon, and as soloist.
"People are listening to quiet haunting music again" says Thomas. "It's amazing how the sound of the harp takes the speed out of everyday life and brings you back to a sort of tingling slowness".
Current CDs:
Norðan" (Laika / Tutl records), Máire Breatnach & Thomas Loefke – "Rock Pools" (Laika)
www.thomasloefke.eu/thomas.html
Doors open 7pm. Performance starts at 7.30pm, you will get a seat if you arrive close to 7pm.
VENUE: Irish Society Hall, 29 Domain Terrace, Spreydon The hall is situated up the long driveway, directly next to Domain Park, and there is plenty of well-lit off-street parking..
DOOR SALES CASH ONLY: Tea, coffee, biscuits and cake available during the break, Eftpos available for purchases only, no cash-out facility. Folk Club and Irish Society members please remember to bring your membership card for licencing purposes. Non-members sign in at bar.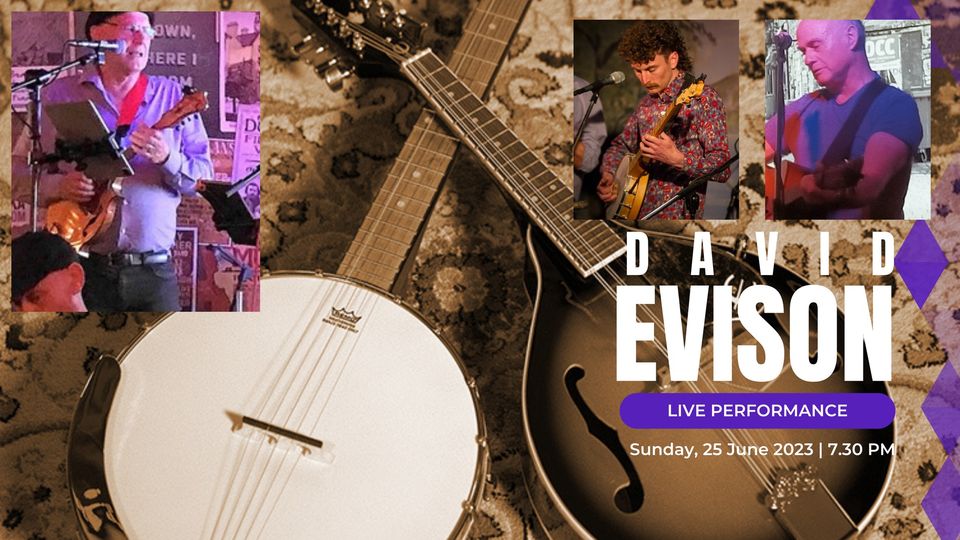 25 June 2023
David Evison is a regular performer at Folk Club events, and recently became a member of the Jamesons, a long-standing Christchurch band which plays every Tuesday night at the Bog Irish bar. He also regularly joins sessions at the Pegasus Bar and the Little Fiddle.
read more