Christchurch Folk Music Club
Wahine Toa ā Waihangatanga: Women Heralding Creativity
19 September 2021$15 Members$20 Non-members$5 Students with ID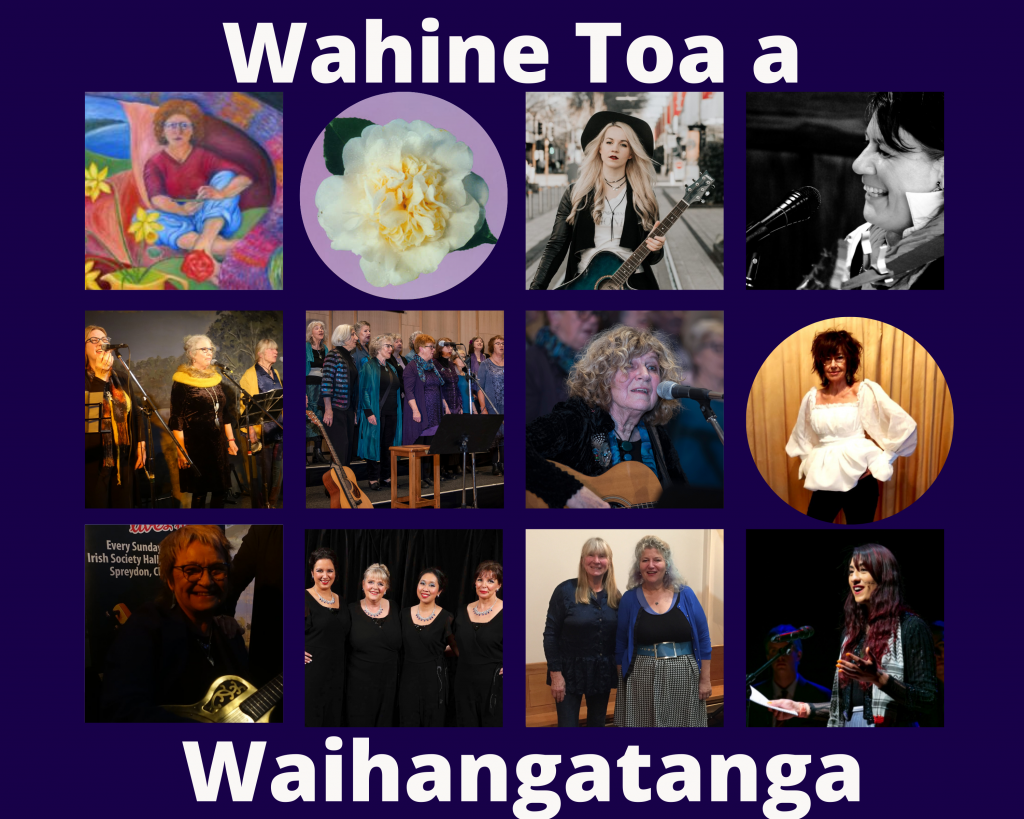 This concert acknowledges and brings to the fore a celebration of women's talents in both music and the arts. We are pleased to offer a host of local talent for you to enjoy.
Women have played an extraordinary part in history. Whether moving toward freedom from oppression, freedom in the workplace, or the freedom to make one's own choices, women have positioned themselves as voices of empowerment and endurance, both music and art have been a vehicle to herald these changes.
On 19 September 1893 the Electoral Act 1893 was passed, giving women in New Zealand the right to vote. As a result of this landmark legislation, New Zealand became the first self-governing country in the world in which all women had the right to vote in parliamentary elections.
Women have lent their incredibly important voices in the struggle for their own rights, civil rights, human rights, and the movement for peace. This event recognises this passion, we invite you to join us and celebrate. Art exhibited by Stephanie McEwin and Jude Rogers
Poetry Sara Qasem
Performance Lisa Tui, Steffany Beck, Saffron Sisters, Susan Leigh Grant & Eileen Marciana Reid, and Mary Ruston & Judi Smitheram
Lisa Tui
Songwriter Lisa Tui is honoured to celebrate the paths of the suffragette movement in song.
Ethereal, soulful and heartfelt Lisa shares a number of her latest compositions drawing on the strength of women's communion with nature and one another. 
Jude Rogers 
Since 2019, I have made sure most of my materials are of low environmental cost.
Instead of the canvas plus several layers of paint I was using, these works use 2nd hand picture frames with leftover fabrics etc. plus much smaller amounts of (artists' quality) paint.
In these works, instead of starting with a specific theme, I came up with visual ideas, experimented with the materials – then gave the results suitable titles.
Mary Ruston and Judi Smitheram
A collaboration of vocals and key tones that will bring songs that share the inspirational; advocacy, and entertainment fashioned by female musicians. Our favourites which we hope will also become yours.
Saffron Sisters
Folk inspired three-part harmony of Kristina Godfrey, Frances Caldwell and Mary Ruston. 
Sara Qasem
"Salaam, Kia Ora, Bonjour. My name is Sara Qasem; a high school teacher of French and Classics, living Ōtautahi, Christchurch. If you were to ask those closest to me, I believe they would describe me as a fiercely proud Palestinian, and yet, all the same, a kiwi too. An amateur poet, and a lover of the outdoors. A humanitarian, and animal lover. My hope is for my work, which is often deeply personal, can be the vehicle which carries important messages, that I hope to touch people's hearts with, and leave them with more love, honesty and vulnerability, than when I found them. Poetry is my solace; the vacant space between my heart and mind, which connects the two. I speak in honour of my late father, Abdelfattah Qasem, a martyr of the March 15 mosque attacks."
Steffany Beck
Steffany Beck is a Christchurch based singer- songwriter who released her self driven debut EP Blue eyed Girl in 2019 which was recorded at Acoustic Wave recording studio. Her latest release, I have a dream won a national songwriting competition providing funding for the final production, music video and mentoring with NZ Artists. She's currently at the early stages of writing new material for her highly anticipated sophomore EP. Her heartfelt songs will get you singing along with a voice comparable to country Taylor Swift meets Alanis Morissette in a Pop Country fusion. 
Stephanie McEwin
Since I was 10 years old, I was compelled to draw and to make music….. My grandmother's sketch book, a treasure, which I still have, was my sole inspiration for making art, and as a church girl, gospel music was always in my blood. Now as a grandmother myself, I nurture the fledgling gifts I see in my own grandchildren. It's like a "circle of life", I just demonstrate the learning and growing in my own creative journey and the family see this and take courage for their own pursuits. Figuration is the signature of my artwork, crowds, human behaviour, stacked and layered, human all sorts, time capsules of our existence. This work, "The Art is Present", is rendered in layers of ink and charcoal on paper. 
Susan Leigh Grant and Eileen Marciana Reid
Joining hands and guitars for an inspiring instrumental interlude.
Symptomatic
'Symptomatic' is a women's Barbershop Quartet that has been together for around 10 months. They are all members of Christchurch City Chorus of Sweet Adelines, and this year received the 'Audience Choice' Award at the 2021 Harmony Aotearoa National competition. They sing 4-part harmony in the a cappella style – a style made popular by the 'Pitch Perfect' movies.
The Quartet's aim is to continue to have fun singing together for many years to come, and to entertain their audiences wherever they go.
Tenor: Abbie Knight; Lead: Janice Munar, Baritone: Toni Stephens and Bass: Hazel Hay
Women in Harmony
Women in Harmony is a fun, dynamic choir singing music from all over the world, we share our love of music through singing.
Doors open 7pm. Performance starts at 7.30pm, you will get a seat if you arrive close to 7pm.
VENUE: Irish Society Hall, 29 Domain Terrace, Spreydon The hall is situated up the long driveway, directly next to Domain Park, and there is plenty of well-lit off-street parking.
DOOR SALES CASH ONLY: Tea, coffee, biscuits and cake available during the break, also bar facilities for cold refreshments throughout the night, Eftpos available for purchases only, no cash-out facility. Please remember to bring your current Folk Club membership card as this is required for new club licensing.
26 September 2021
In 2019 Graham Wardrop and Tom Rainey took to the Great Hall with a James Taylor Tribute, now they are back to share the show with the Christchurch Folk Music Club.
read more