Christchurch Folk Music Club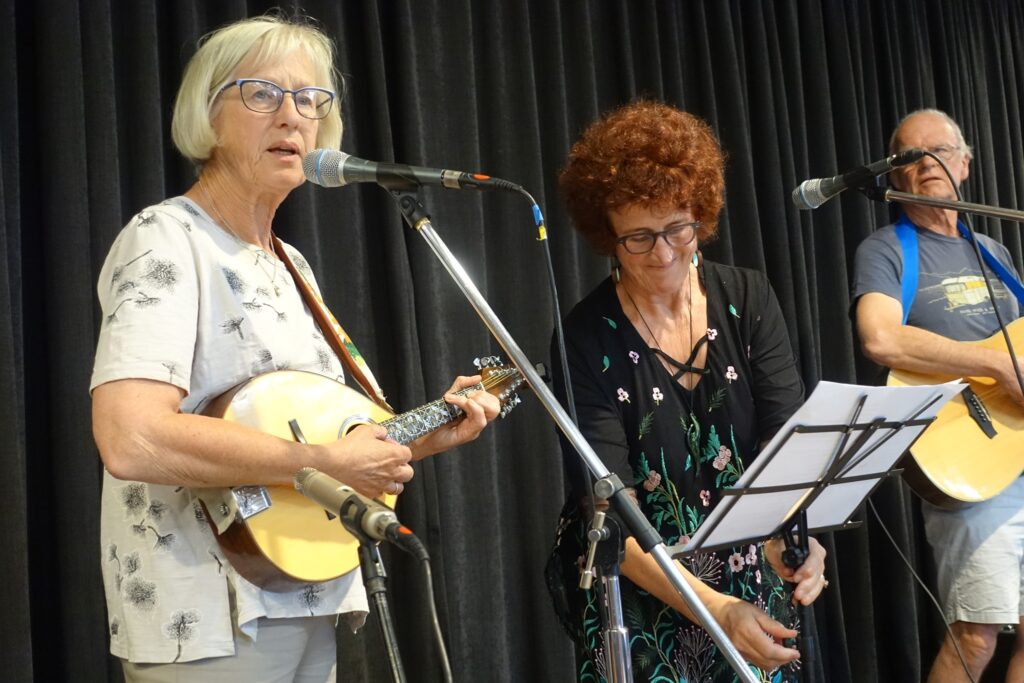 Hearing Birdsong
In a year plentiful in memorable concerts we finished the year by melodically filling the stage with the delightful sounds by exploring the theme 'Hearing Birdsong". Held Sunday 13th December 2020 at the Caledonian Hall, Michelle Road, Sockburn.
A concert where members brought their creativity in three songs within the theme of "Hearing Birdsong" and three illustrious sets: 6:15-7:15pm; 7:30-8:20pm and 8:40-9:30pm.
The birds outside the hall appreciatively joined with the performers, as we dined together, shared fellowship, reflected positively on our ability to gather together and socialise. Twas certainly a time to reflect on our blessings, the joy that music brings both as performers and listeners.
The Christchurch Folk Music Club would like to thank all the supporters over the past year, we have hosted a variety of concerts including the Zoom concerts over the COVID period where we stayed connected thought technology, the audience is as always appreciated, a valuable gift to the artists to have their music appreciated by a live and attentive audience.
The committee and volunteers who have gifted their time to make the club a success, many thanks all the above are integral to the ongoing success of the club. Your support is sincerely valued.
We open again for another year of musical magic with the first concert on 14th February 2021, we look forward to seeing you then.
Judi Smitheram
Welcome to the Christchurch Folk Music Club.
CONCERTS ON SUNDAY EVENINGS:
Door open at 7.00pm. Performance starts 7.30pm
VENUE: Irish Society Hall
29 Domain Terrace, Spreydon
View map
The hall is situated up the long driveway, directly next to Domain Park, and there is plenty of well-lit off-street parking.
DOOR SALES ONLY:
Please note: there is no Eftpos available on site.
Folk music is 'music which covers multiple genre music styles'. We vary the weekly concerts, giving variety for all age groups and music preferences.
The Folk club is an inclusive club made up of members, visitors & performers with a common appreciation and love of performing arts & music. Audiences are often prompted to participate throughout the concerts when appropriate. There is always the opportunity after concerts to interact with performers, discuss instrumental techniques and a great social way to get to know members and performers alike.
The Club supports local musicians and groups, as well as facilitating many International Performing Artists throughout the year, many of whom are launching CDs or are renowned internationally for their particular chosen musical genre and expertise. We also facilitate occasional 'open mic' nights, allowing artists (both amateur and professional) to perform at the club while being supported by a professional Sound Technician & sound equipment. This is a wonderful experience for amateur musicians to gain microphone experience, and an excellent opportunity to share their music with an appreciative audience.
Concerts consist of two 50 min performances, split by a 20-minute break. There is a small bar open for refreshments, Tea, Coffee & Cakes are available at halftime. Toilets on site.
We have reduced rates for music students with ID cards.
Club membership is a minimal fee, and entitles members to a $5.00 reduced weekly door charge, a copy of the 'Hear-Ye' newsletter, which is circulated regularly. The Hear -Ye, informs you of the up-coming weekly concerts, the performers' music styles and backgrounds, entry fees, club activities, email reminders, and provides discount vouchers from Music Works.
The club is well established and has been running in Christchurch for 50 years by a committee of volunteer members. Please speak to a committee member if you have any questions/concerns, if you think you might be interested in joining or becoming more involved in the club activities.
Please like our Facebook Page for reminders of up-coming concerts & musical events.
Also: like the 'Kiwifolk' facebook page for regular updates of nationwide folk club concerts and musical events.
Come join in , feel welcome, meet new people with similar interests and most of all…enjoy the music.
14 February 2021
Performing the perfect blend of originals and covers , radiating their warmth, vitality and exquisite musicianship.
read more


Sign up to receive updates