Christchurch Folk Music Club
Waimate Summer Folk Festival
Gunn's Bush Camp  | 3-6 February 2023
This is a new event which will have most of the familiar well loved folk festival features-
Concerts, blackboard sessions, blind date concert, dance, jamming and a water fight for those with fond memories of the Tui New Year festival.
Our guests this year are
Festival Programme
View the programme here: Fest Schedule

Festival Details
Hosted at: Gunn's Bush Camp  36 Gunns Bush Road, Hunter, Waimate, South Canterbury (view on google maps)
Arrival: after 2pm Friday 3rd February 2023
Check out: 10am Monday 6th February 2023
Extensive camping area available and bunk rooms.
Please note, this is not a catered event. There are communal fridges and limited cooking facilities, but please bring your own cooking equipment where possible.
Registration
Festival Fees
| | |
| --- | --- |
| Full Weekend Adult (2pm Friday – 10am Monday) | $130 |
| Full Weekend Child (13 -18 years) | $80 |
| Under 13's | Free |
| Full day pass | $40 |
| Half day pass | $25 |
There is an opportunity for 6 people to assist with cleaning and logistics in return for free
admission. Please email waimatesummerfest@gmail.com for more information.
To register, please fill our the Registration Form via the below link, or fill our the form on this page.
Contact
Follow the fest on Facebook: here
Contact waimatesummerfest@gmail.com with any questions
Festival Artists: Fiddlesticks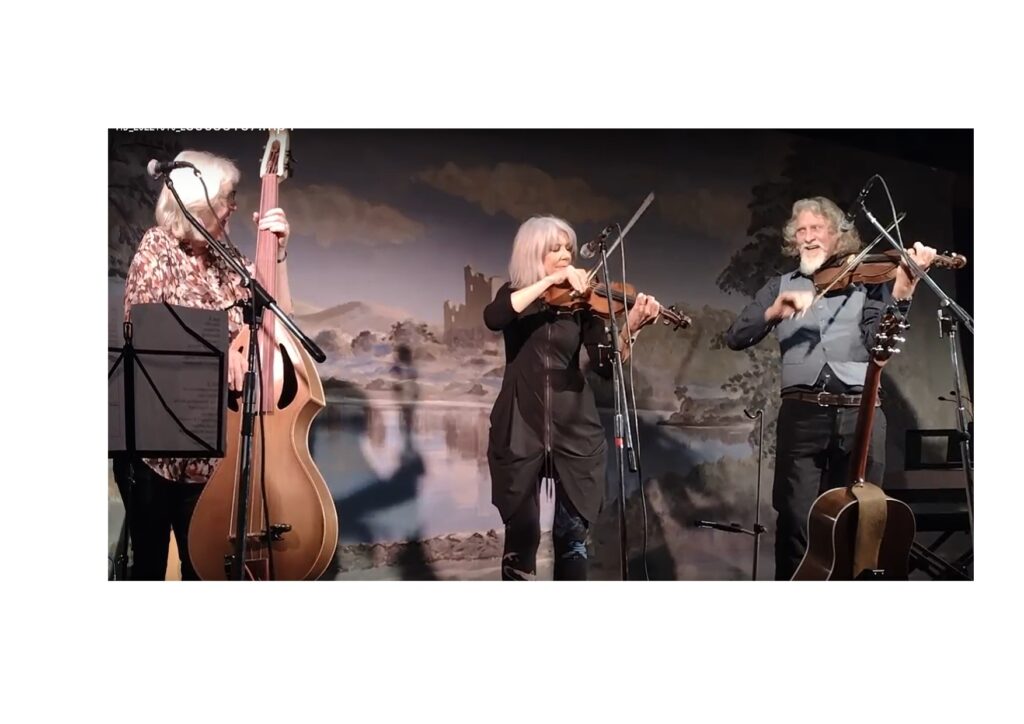 Karen and Jacko Jackson have been performing as Fiddlesticks for 4 decades, with the last 16
years being in Australia. Over that time, they cherished the many challenges and
opportunities that presented with music, partnerships and influences.
Some of the highlights of their time in Australia include:-
The first 5 years they performed and toured for the Queensland Arts Council.
In Brisbane they helped set up the Brisbane Celtic Fiddle Club.
For 7 years they founded and directed the Sunshine Fiddle Camp.
2018 they ran the Fiddlers Rally at the National Folk Festival.
Being members of the "Hjaltibonhoga Fiddlers" in the Edinburgh Tattoo the 2 times it
toured Australia.
The last 6 years saw Karen & Jacko settled in the Northern Territory surrounded by music,culture and opportunity. While there, Karen worked as a string's teacher and ran the Desert
Fiddle Club. She also rekindled her passion of Trad Scottish Music and Jacko found a new
passion in Klezmer music. Fiddlesticks continued as a four-piece band, playing weekly at a
local recycle café (seemed fitting ).
Returning home to the West Coast of NZ in 2021, Karen & Jacko met Carol Rose, who many
will recall from her 20 years with Nelson women's Celtic band Cairde (Carja) and also for
co-hosting the Tui Farm Folk Festival with husband Steve Rose for 19 years. Now also
living on the West Coast, Carol has joined Fiddlesticks on bass, guitar and vocals.
Look forward to a lively and eclectic performance featuring twin fiddles, gorgeous harmonies
and fantastic musicianship.