Christchurch Folk Music Club
20 August 2023
$15 Members
$20 Non-members
$5 Students with ID
Reserve your seats here: https://forms.gle/mww2XygsgX4jGtru6
Hera is an award-winning Icelandic-Kiwi singer/songwriter who has lost count of how many times she has traveled around the world with her guitar. Her self-titled album released in 2020 to critical acclaim and reached #1 on the album charts in Iceland.
Hera has a long musical history, including: a Gold-selling record, high-rotation radio play, and support slots for the likes of Nick Cave, Joe Cocker, Amanda Palmer, and the Dresden Dolls. 
She has been named 'Best Female Artist' at the Icelandic Music Awards, performed twice at the famous SXSW festival in Texas and twice at the iconic Glastonbury in the UK. As well as touring the world from Italy to Indonesia, Australia to the Philippines… even to Greenland, where she played among icebergs at a remote beach in Tasiilaq.
This collection of songs is her most intricately crafted and personal release yet. 'Hera', the album was in the making for over three years and is recorded across the world, featuring musicians from Iceland, New Zealand, and the United States. The album went #1 on the album charts in Iceland, the single 'Process' also went to #1 on the Icelandic Rás 2 Radio charts. The album is produced by Barði Jóhannson (Bang Gang/Lady & Bird)    Listen and follow on Spotify.  ♡ — join the mailing list for updates
Doors open 7pm. Performance starts at 7.30pm, you will get a seat if you arrive close to 7pm.
VENUE: Irish Society Hall, 29 Domain Terrace, Spreydon The hall is situated up the long driveway, directly next to Domain Park, and there is plenty of well-lit off-street parking..
DOOR SALES CASH ONLY: Tea, coffee, biscuits and cake available during the break, Eftpos available for purchases only, no cash-out facility. Folk Club and Irish Society members please remember to bring your membership card for licencing purposes. Non-members sign in at bar.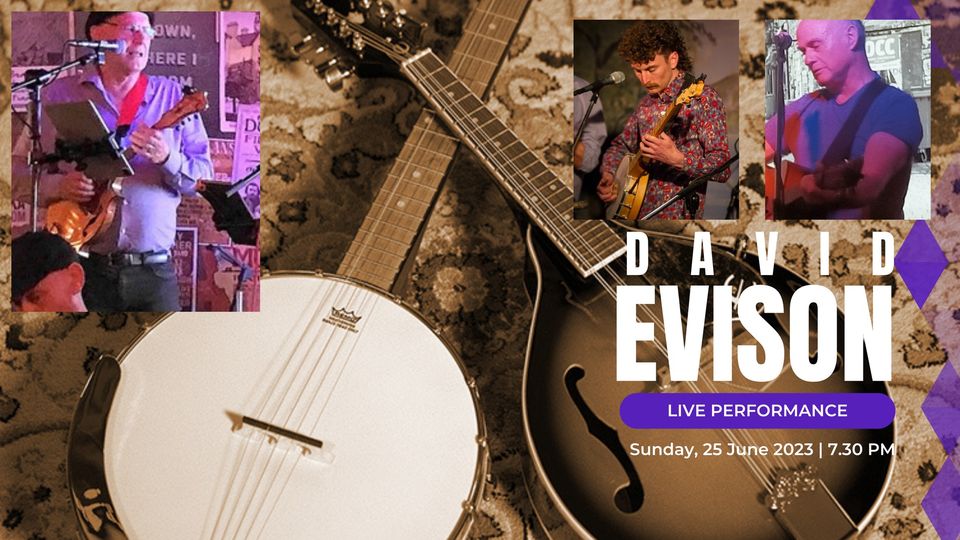 25 June 2023
David Evison is a regular performer at Folk Club events, and recently became a member of the Jamesons, a long-standing Christchurch band which plays every Tuesday night at the Bog Irish bar. He also regularly joins sessions at the Pegasus Bar and the Little Fiddle.
read more