Christchurch Folk Music Club
9 October 2022$10 Members$15 Non-members$5 Students with ID
Al Park has been a name on the Christchurch music scene for some considerable time. Arriving in Christchurch in the mid seventies it did not take Park too long to have an impact on the Christchurch scene. Opening up a small club, simply named, "Mollet St", after the street that ran off Colombo, Parks' band, Vapour and the Trails, played regular gigs. Very quickly other like minded bands started turning up and Mollet St became the hub for the emerging punk/new wave scene that was sweeping the planet.
The Trails became very popular and after eighteen months they ventured out into the world of pub gigs. Invited to become "resident band" at the infamous Gladstone Tavern, Park took over booking bands into the bar which allowed the band to have a permanent gig in Christchurch but also allowed them to tour the country. Things came to an end round nineteen eighty and Park, now living in Lyttelton, hooked up with his neighbour, Bill Hammond, to form "Old Denis". Old Denis had a fluctuating lineup, including Simon Morris (RNZ national), and played regular gigs at the British Hotel. This came to an end when Park took of to live in Los Angeles.
Returning to NZ at the end of nineteen eighty  Park had an idea for a band that came from the various musics he had been listening to in the USA. Varied was the word as he had been seeing and listening to the likes of The Blasters, Kid Creole and the Coconuts, Grandmaster Flash and local LA soul and rhythm and blues bands. A stable lineup was established after a year and, "Louie and the Hotsticks", became one of the most popular bands on the Christchurch scene. Their legacy has lived on and at their gig almost eight hundred people turned up to the Ferry Alehouse to relive those halcyon days.Unfortunately, drummer, Wayne Beecroft passed before they could play again. Following on from the Hotsticks Park played with top covers band, Big Elvis, and after two years formed another covers band, The Latter Day Sinners- a band which he still plays with today.
However, much more happened after Big Elvis. Park became the second hand manager for iconic music store, Echo music: had two kids and played parties and weddings with the Latter day Sinners. Things changed again when in two thousand and six he opened up a music venue called Al's Bar. Previously it had been a cafe called LA's but a quick switch of the neon sign turned it into Al's and Christchurch had a four hundred plus music venue. Top international and national acts came and played and after a few hard years Al's was a major name on the NZ touring circuit. Then came September, two thousand and ten, followed by February, two thousand and eleven. Six months of wrangling could not save it from the wrecking ball and Park was left broke and somewhat broken.
Lyttelton has been "home" for forty something years and it was there that Park found his calling. The local Yacht Club was the only place left standing and Park started booking the wonderful array of local talent into the club. Awesome nights of music and party followed and the "Harbour Union", a group of local Lyttelton musicians formed ( mainly instigated by Adam McGrath from the Eastern), recorded an album (all proceeds going to people damaged by the quakes) and toured through the main cities of NZ.
Since then Park has joined up with young guitarist, Adam Hattaway, to have the duo, "Park/Hattaway"; plays with local original band, Runaround Sue; also plays with guitarist, Elmore Jones-"Al and Elmore"; and still has party bands, the Latter Day Sinners and ,Al P and his P.A.L's. He also plays a solo show featuring his original songs but can also play a night of covers if required. Always a person with a foot on both sides of the fence, Park also promotes shows – either by touring artists,(Blind Boy Paxton; Greg Johnson), or by putting shows together ( Some girls sing the Stones; the songs of Bob Dylan;  songs of Neil Young). In 2019 he released an album of his songs. "Better Already", sung by his "famous"friends-Marlon Williams, Barry Saunders,Jordan Luck,Delaney Davidson, Adam McGrath, Adam Hattaway, Janice Gray, Helen Mulholland, Anthea De Milo and Anita Clarke. Just recently he released an Al Park album called "Pony" which charted at number 6 in the NZ album chart. A man with a history of song and stories you can catch him playing with his P.A.L's ecery Wednesday at the Commoners in Lyttelton or at venues across the South Island.
Doors open 7pm. Performance starts at 7.30pm, you will get a seat if you arrive close to 7pm.
VENUE: Irish Society Hall, 29 Domain Terrace, Spreydon The hall is situated up the long driveway, directly next to Domain Park, and there is plenty of well-lit off-street parking..
DOOR SALES CASH ONLY: Tea, coffee, biscuits and cake available during the break, also bar facilities for cold refreshments throughout the night, Eftpos available for purchases only, no cash-out facility. Folk Club and Irish Society members please remember to bring your membership card. Non-members sign in at bar.
Tea, coffee, biscuits and cake available during the break.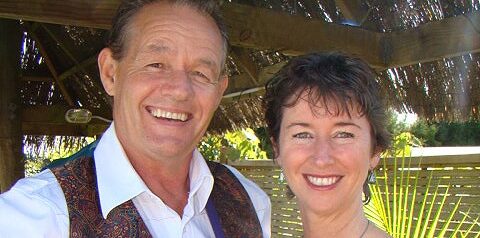 21 August 2022
Husband and wife team of Peter and Jacquie Faulkner, from Katikati.
They play a wide range of music on acoustic guitar, keyboard, percussion and vocals.
read more