Christchurch Folk Music Club
Barry Davies
By Tony Hale Copyright 2017
Despite the Welshness of his name, Barry Davies is from South Devon, from Paignton to be exact and in 1971 he was a 23 year old guitar hero of the author who would sit in the front row of the Folk Centre taking notes. Each had recently arrived in Christchurch, one to study and the other looking for adventure, music opportunities and work. They were not to meet until 2017.
Barry's story places the folk music of the time in the wider social and economic context of the country. He said in 2017, "the folk scene was not disconnected from the economic one", for this was era where many young folkies worked at any job at a time when those jobs were plentiful. They worked to save and play, then responded to the wandering urge that young people have and moved on, often guitar in hand. The social interconnections were paramount and made the whole existence possible. Living cheaply was the deal; no one judged them for that. The constant zigzagging between cities illustrated below helps explain why booked musicians at the Folk Centre sometimes disappeared only to reappear later.
While the good economic times at the turn of the decade allowed for this bohemian existence, Barry personally experienced a gradual tightening and by the mid 1970s such opportunities had greatly diminished. In fact, Barry's story only needs a change of name to reflect those times for many.
On the musical side, Barry learned his craft attending London folk clubs up to five nights a week, catching repeat glimpses of the guitar heroes of the day who New Zealanders knew only on vinyl. While he never took lessons, he was able to learn and hone the technique that he brought to Christchurch in mature form: .
"my finger style picking is fairly ordinary- mainly alternating thumb on strings 6 4 5 4 and fingers (mainly) 1 and 2 on any of the top 3 strings, so thumb 6th index 2nd, thumb 4th, 2nd finger 1st string, thumb 5th index 2nd or 3rd string etc. add in some thumb and finger(s) together pinches for variety. Playing a solid thumb bass line alternating with three strings together in "grabs" in a sort of blues style is another bit as is including hammer ons, pull offs and slides singly or in pairs. Nice thing about hammer ons is that they can often be played with just the left hand." 
At a time when most Kiwi folk guitarists played full chords with arpeggio or simple clawhammer picking, seeing alternatives where the triad was hinted out and sustain created through string sliding was revelatory and created hunger. Libby Stuart, sitting at the door desk, saw Barry many times and remembers the impact of his first booked appearance,
"Eyebrows went up, jaws dropped – he had clearly worked hard to get that sound – crisp and clean guitar work and a nice singing voice. He was obviously an accomplished performer".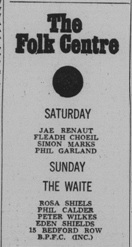 Christchurch Star, 2.1.1971. Barry's first booking at the Folk Centre.
She goes on to explain that locals had little at hand other than A Tune a Day books and each other, something of a closed system. Imported records were few, competent guitarists from foreign lands even rarer. However, folk club culture was to share, and Barry was more than willing to spend time with nascent guitarists – because no one was making serious money from music there was nothing to protect. It should be added that a sub-culture was at work here, and if a person was seen to be willing to share, invitations would follow for accommodation in musical flats where many impromptu bands sprung up.
Barry begins his story, "I arrived in Auckland in the late 60's and discovered that it was easy to find work (there was underemployment!) and make enough money to get by and even save a little. Got Gordon Zettwitz to recondition my very battered Gibson L-00 (he did a wonderful job – by then it was about 40 years old) and in 1970 got involved with the Poles Apart Folk Club in Kyber Pass to the extent that I went to live there. I found work in a nearby jewellery factory as a day job, and through Phil Read, a music shop owner and flamenco guitarist whom I met at the folk club, was soon teaching fingerstyle classes that he organised in the catacombs of St Kevin's Arcade beneath his shop off the then infamous Karangahape Road.
"Met a lot of colourful characters at "The Poles" among them John Hayday, Glen Crosse, Warwick Brock, Bill Taylor, Chris Thompson, Marilyn Bennett, Hamilton County, Mike Grace, Pitt Ramsay, Al and Bev Young, Gordon McIntyre, John Caldwell, Roger Giles, Malcolm Price, Ben Bendall and Bob Pomeroy to name a few of many.
"We had a lot of venues where live music was in demand. Apart from "Poles" there were folk clubs at Devonport, Titirangi, and Hamilton, and a café near the junction of Wellesley and Symons St, the name of which eludes me. There were a number of cafes where live music was welcome and Cook St Market was in full swing – a wonderful busking environment. Pubs weren't into the folkie thing – they mainly hosted amplified rock – I remember Sonny Daze and "Eagle Rock" particularly, although Graham Brazier was also making transitional moves from the Poles to the pub scene.
"Many of my acquaintances during this period were somewhat transient and with the NZ Christmas close-down looming I was already feeling the inclination to try another environment so when I got a call from Bob Pomeroy who had by then moved to Christchurch after living at the Poles, it looked like a plan, so I caught the night train to Wellington (about $6.00!), hung around the capital for the day, then caught the night ferry to Lyttelton (six dollars and six cents, which included a dormitory bunk and tea and biscuits in the morning – those were the days!).
"When I found Bob in Christchurch he was living in a beautiful little two storey fencible. He and his girl Deirdre invited me to stay but it only lasted a few weeks before the whole row was bulldozed. I think were squatting.
"Through Bob I got involved with the ChCh folk club at Bedford Row. On my first night there we met Keith Finlayson who introduced me to his home-made hooch. I didn't drink that much of it but in the morning awoke underneath a great stack of chairs in the corner of the venue. I think that was why Phil Garland was always a bit stand-offish with me. Not a good first impression, but the stuff I played went down well and he booked me consistently throughout my stay in ChCh. My repertoire was fairly modern for those times and included idiomatic versions of material from Bert Jansch, John Renbourne, Ralph McTell, Wizz Jones, Doc Watson, Ramblin' Jack Elliot, Buffy St Marie, Donovan, James Taylor, Rev. Gary Davis, Mississippi John Hurt, Mike Seeger, Eric Schoenberg – in other words, a pretty trendy eclectic mix at the time. By now it's all old hat."
He was booked a total of ten more times plus one jointly with Paula Feather from this date until July 1971, this frequency of exposure testament to his extensive repertoire, popularity and skill.
"During this sojourn in ChCh and once again through a folk club, I met many people that I still remember with affection. Such a list would include Bernie Cherry and his family, John Elleson, Paula Feather, Penny Evison, Jim Doak, Jae Renaut, Alistair Hulett and his sister Alison, Rosa Shiels and many more.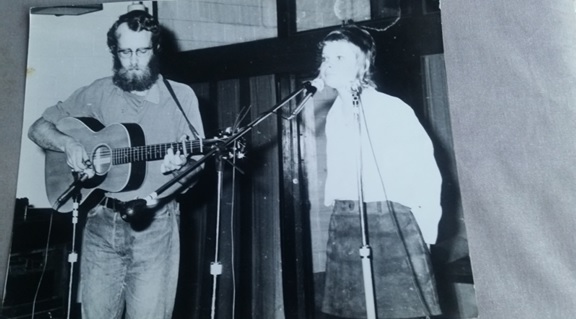 Barry backing Paula Feather in a Christchurch Teachers College concert, late 1970 / early 1971. Barry is playing his refurbished Gibson L-00. Note the early use of a boom stand which made for much closer miking of vocals and acoustic instruments. Photo: Paula Feather.
"Geoff Skinner was another, and we got a busking act together. We played at a pancake kitchen in a lane off the Square, and outside several chippies around the Square. Another site was the British Arms in Lyttelton. That place was quite a culture shock – lots of alcohol, sailors, girls and in-betweens up to all sorts of mischief, but they looked as though they were enjoying it and they were generous.
"At about this time the Government increased the wholesale sales tax on jewellery from 20% to 40% and so an enormous quantity of factory orders vanished overnight. I turned up for my day job at a factory in Papanui only to find that my job had likewise vanished. I got work as an orderly at the hospital – the only thing I could find – but the shift work curtailed the music side and company in my life, and although the hospital was interesting it soon palled so I uprooted again and went wandering around the South Island, inevitable running out of money and ending up back in Auckland at the Poles for short time. The country was changing rapidly as far as work went, and many old friends were going offshore or hunkering down to work for the System – that's how it seemed at the time but perhaps I was eventually growing up.
My wife and I spent most of the next 30 odd years working in Auckland before moving to Christchurch in the early 2000's. We've been here ever since and love it".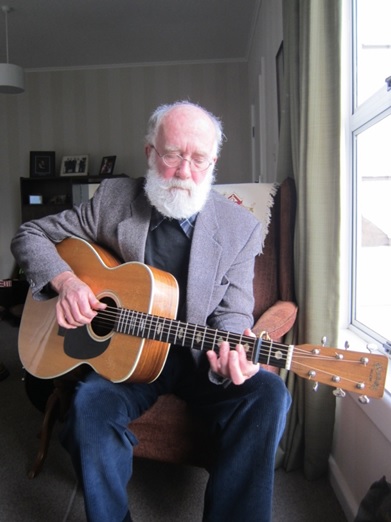 Barry in 2017, playing a 1991 Martin J40. Photo: Tony Hale 
Barry and his wife live in Lyttelton where, in 2017 he keeps going an Open Mic night at the British Arms Hotel.
Read more below: ARCA Desk Tape Series - Paul Marks - Support Act - Support Act The Historic Record Recording 'Paul Marks Live At Christchurch Folk Club' Released In ARCA Series - Noise11.com Paul Marks - LIVE at the Christchurch Folk Club 1968 (ffm.to)
read more